San Andres – A ribbon-cutting ceremony and blessing took place Wednesday, November 8, 2017, to inaugurate ARDCI's new building in San Andres, Catanduanes. The Hon. Peter C. Cua, Municipal Mayor of San Andres, Mr. Benjamin B. Completo, President of the Board of Trustees, and Mr. Victor T. Bernal, Executive Director, officially inaugurated the building. Members of the ARDCI Board of Trustees, Unit Heads, SLS Chairpersons, and ARDCI employees attended the occasion.
The blessing of the new building was officiated by Rev. Fr. Reynaldo T. Pabillian, Jr. from the Parish of St. Andrew the Apostle.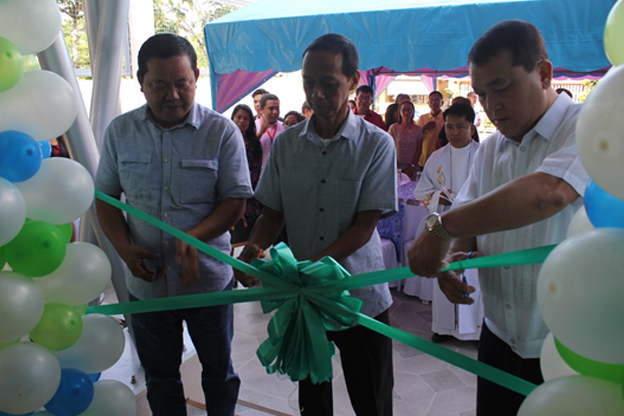 Mr. Bernal said the inauguration of the new building signifies the fulfillment of ARDCI's dream to build its own building in areas where it operates. Construction of the building took almost a year. ARDCI plans to build its own building for other branches within the next few years.
He also took pride of the new two-story building, which he said is well ventilated and spacious enough to accommodate the heavy influx of people who transact with ARDCI every day. Its design echoes that of the Head Office. The new office building is also equipped with closed-circuit security cameras.
Located on the ground floor are the frontline offices with a roomy reception area, conference room, and pantry. Other offices and the employee lounge are located on the second floor.