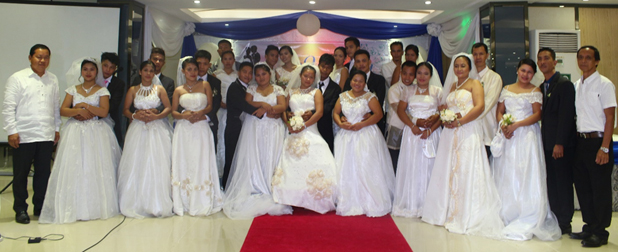 Tabaco City – Fourteen couples exchanged vows at a mass wedding on December 9, 2017 in Tabaco City. Rev. Fr. Gerard B. Arroyo officiated the ceremony at the St. John the Baptist Parish Church. Reception followed at The Concourse II Convention Center.
Mr. Benjamin B. Completo, President of the Board of Trustees, and Mr. Victor T. Bernal, Executive Director, graced the occasion.
In his message to the newlyweds, Mr. Bernal encouraged husbands and wives to work together to uplift their lives. "Boot mi na mahiling an saindong pamilya na makaalwas sa pagtios. Ini po an samong misyon. Ini po an dahilan kun ngata igwa kitang ARDCI. Tabangan niyo po kami na magin totoo an samong bisyon para sa saindo asin sa iba pang pamilyang Pilipino. (We wish to see your family break free from poverty. This is our mission. This is the reason why we have ARDCI. Help us realize our vision for your family and for other Filipino families)," he said.
The Mass Wedding is one of the Katuwang ng Komunidad programs under the ARDCI 5K Initiative. The ARDCI 5-K Initiative is the organization's Social Responsibility agenda for health; education; health and sanitation; environmental protection; and community services.
The mass wedding in Tabaco City is the first outside of ARDCI's home province of Catanduanes. It marks the start of the program's rollout in other areas of operations.